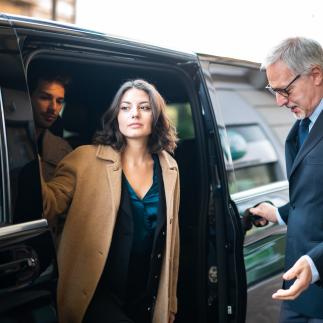 At Aparthotel Mariano Cubi, we understand the importance of having a reliable and efficient transfer service for your business and corporate transfers. That is why we put at your disposal a fleet of high-quality vehicles and professional drivers, ready to provide you with a safe and comfortable transportation service.
Our vehicles are equipped with all the necessary comforts to ensure a pleasant and calm trip. Whether you need to transfer from the airport to the hotel, attend business meetings or visit companies in Barcelona, our transfer service will adapt to your specific needs.
Our drivers are highly trained, friendly, and knowledgeable about the city. They are committed to providing you with a professional and respectful treatment, ensuring that you arrive at your destination on time and without setbacks. In addition, they will be happy to offer you useful information about the city and recommendations on places of interest.
We care about providing you with a personalized and quality transfer service. If you want to book a transfer, you just have to contact our reception team and we will be happy to handle your request and make sure that your transport experience is excellent.
Trust us for your business and corporate transportation needs. At Aparthotel Mariano Cubi we strive to exceed your expectations and ensure that every aspect of your stay is comfortable and satisfying.
Enjoy a first-class transfer service and forget about logistical details while you focus on your business commitments in Barcelona.