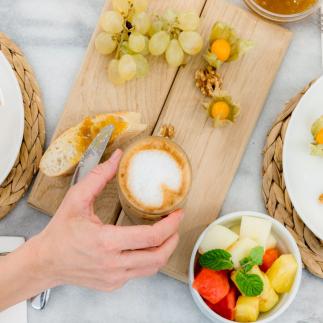 At the Mariano Cubi Aparthotel, we want you to start your day in the best possible way. For this reason, we offer you our delicious Buffet Breakfast, a carefully prepared selection of high-quality Mediterranean products so that you can enjoy a unique and energetic gastronomic experience.
Our Buffet Breakfast is available every day of the year, from 7 a.m. to 10:30 a.m., so you can enjoy it at your own pace and according to your schedule.
We invite you to explore a wide variety of options that include a selection of freshly baked breads, cold cuts and cheeses from the region, fresh fruits and natural juices, yogurts and cereals, as well as a variety of hot options such as scrambled eggs, bacon and sausages.
We are proud to offer you high quality products that reflect the essence of Mediterranean cuisine. We value fresh, local ingredients and strive to offer you a wide range of options to suit all tastes and food preferences.
Whether you prefer a light, healthy breakfast or a heartier, more comforting meal, our Breakfast Buffet has something for everyone.
Enjoy a cozy and relaxed atmosphere while you delight in the flavors and aromas of our fresh and tasty products. Our Buffet Breakfast is designed to provide you with the energy and pleasure you need to start your day in the best way.
Come and enjoy this unique culinary experience during your stay with us. We are waiting for you to offer you an unforgettable breakfast in the heart of Barcelona!