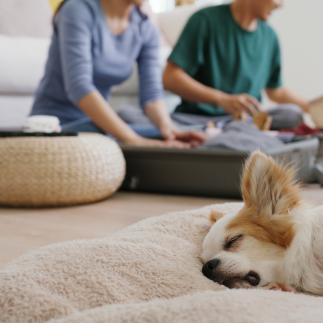 At the Mariano Cubi Aparthotel, we know how important your pet is to you and we understand that you want to enjoy Barcelona with her. Therefore, we are committed to providing you with a comfortable and cozy experience for both you and your faithful four-legged companion.
Our spacious and comfortable rooms are designed with your comfort and that of your pet in mind. We have special services and amenities to make sure you both feel at home. In addition, we have green areas and outdoor spaces where your pet can move and enjoy walks and moments of play.
During your stay, our team will be available to provide you with information about pet-friendly places in Barcelona, such as parks, restaurants and shops that allow pets. We can also provide you with recommendations on nearby veterinary clinics in case you need any care or assistance for your pet.
You don't need to leave your furry companion at home when you visit Barcelona. Stay at Mariano Cubi and enjoy the city with your pet, knowing that we strive to make your stay an unforgettable experience for both of you.
Come and discover Barcelona without leaving your best friend behind!